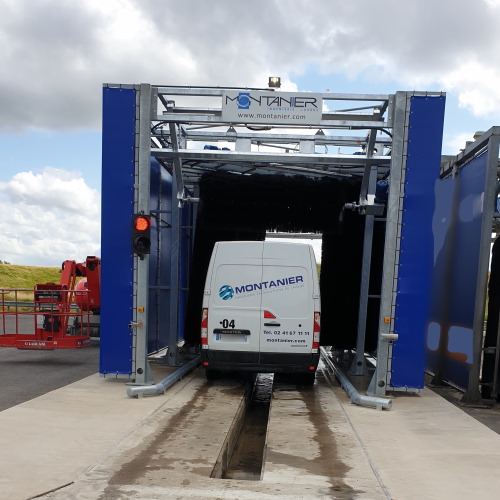 An ecological and efficient device
The washing tunnel is a fixed piece of equipment intended for washing in the parade. Its structure is fully hot-dip galvanized allowing it to be installed both indoors and outdoors.
Many mechanical components are made of stainless steel to guarantee longevity and reliability.
The 4 side brushes distributed in the entry and exit boxes, are suspended from motorized trolleys with a rotation of 100rpm moving on stainless steel guide ramps in complete autonomy (independently from each other).
The roof brush is integrated in an additional box placed at the tunnel entrance. This box requires 2 additional feet, identical to the 6 of the basic version.
We have installed a treatment system to recycle approximately 70-80% of the washing water (100% top-up with rainwater subject to on-site rainfall).
A technical room allowing the installation of various washing and water treatment equipment has been set up. The Technical Bungalow is placed on a concrete slab located next to the washing area and which resists winds of 130 km/h. The technical bungalow is equipped with a fire extinguisher and an emergency stop button on the outside, 1.20 m from the ground.